Julianne Felton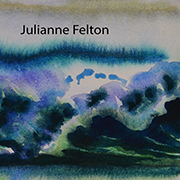 About me:

I find great joy, love, and inspiration in making art, and great satisfaction when my art moves or inspires others. My paintings come from memory, from emotion, from places I see and where I spend time. Sometimes I have a plan, with drawing and an idea of what I want to convey. Rarely, if ever, does that initial idea or vision come to a conclusion without changes. Most of the time I just like to paint with what comes from the heart and hand.

My photographs are joyful attempts at capturing a moment in time of light, mood and space. I'm inspired by Florida beaches, natural landscape, and Sandpipers.

To purchase an original painting contact me at artistjf@gmail.com.

To purchase one of my images is very easy to do. Fine Art America gives you plenty of choices and easy instructions on how to go about ordering and owning a beautiful print on many different surfaces with various framing choices. Best of all, it is satisfaction guaranteed!

Thank you for visiting my page. Enjoy!

Julianne Felton
Signature Member, Florida Watercolor Society


All images displayed on http://julianne-felton.pixels.com are copyright owned by Julianne Felton 2009-2020, all rights reserved.